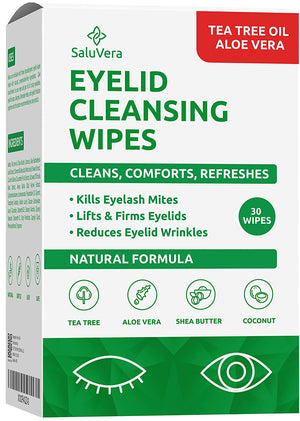 SaluVera
Eyelid Wipes with Tea Tree Oil and Aloe Vera
Sale price Price $18.95 Regular price $22.00 Unit price / per
Tax included.
Eye Cleansing Wipes for Dry and Itchy Eyes Relief | Natural Ingredients Eyelid Scrub for Daily Usage - Pack of 30
✔️ Relieves Dry and Itchy Eyes: Get the relief that you need. Simply wipe and say goodbye to dry and irritated eyelids. Pre-moistened eyelid cleanser wipes with natural tea tree oil and aloe Vera improve clogged glands. Our eye wipes help relieve dry, irritated, sensitive eyelids by gently cleansing eyelids and eyelashes. Suitable for all skin types
✔️ Removes Dirt and Makeup: Our eye lid scrub pads do not contain any harsh chemicals. Tea tree oil and aloe Vera soothe eyelids while the exfoliation with soft wipes removes impurities and secretions from eyelids and eyelashes. Tea tree oil wipes cleanse eyelids instantly from oil, dust, waxy materials, unwanted makeup and other pollutants
✔️ Reduces Eyelid Wrinkles: Gentle daily exfoliation of the eye area improves the skin tissues and helps you look younger and glowing by creating a smoother surface. A gentle lid scrub eyelid cleanser keeps the skin elastic enough to flatten out and look youthful again. Tea tree wipes for eyes are a simple way to cleanse and exfoliate at the same time
✔️ Relief for Tired Eyes: Our lid wipes help relieve the eye fatigue and stress on eyes due to long hours of focusing the eyes on computer screens, mobiles, TVs etc. The formula of tea tree oil and aloe Vera soothes and calms the eye area, keeping it refreshed and clean
Every day our eyes are exposed to dust, dirt and environmental allergens. When we wash our face, we tend to naturally avoid the areas around our eyes. Unfortunately, we end up ignoring it altogether – hence, why eyelid cleansing wipes are so crucial for daily use. 
These gentle eye cleanser wipes remove oil, makeup, and other dust that may cause eye problems, making them a great choice for those with skin around the eyes. Our tea tree eyelid cleaner is the perfect companion at the end of a long day when hours of makeup wear or exposure to pollutants leave your eyes agitated and tired. Make Saluvera eyelid scrub pads a part of your daily eyelid hygiene routine to keep them fresh and clean. 

Specially designed for Busy Lifestyle 
Ideal for life on the go, the premoistened eyelid and lash cleanser wipes are ready to use anywhere, anytime. Simply toss the eyes wipes in your bag and take them to work, the gym, on vacation. Just take out eye-cleaning wipes and wipe your eyes. Our eyelash wipes will refresh the eye surface giving you a sharp, clear vision. 
Protection Against Dry Eye Syndrome and Allergies 
Those sensitive to dust and other unwanted particles often experience red, itchy eyes when they are exposed. Using eyelid wipes with tea tree oil and aloe vera regularly removes allergens from the sensitive eye area and may help reduce symptoms. Practicing good eyelid hygiene with the use of eye lid wipes helps to safeguard against dryness. Eye lid cleaning wipes Easily Removes Makeup  
If you go to bed without removing eye makeup, it all can slip into your eye and cause redness, itchiness and even infections. Sleeping without removing eye makeup on a regular basis causes clogged glands and hair follicles on eyelids. Tea tree oil in our eyelid pads formulation easily removes dirt, excess oils, and makeup. The dry eye wipes get into those hard-to-reach spots between your lashes.