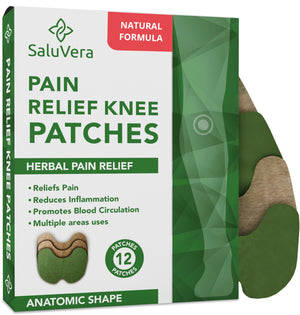 SaluVera
Knee Pain Relieving Patches
Sale price Price $18.95 Regular price $20.00 Unit price / per
Tax included.
Made with Natural Ingredients – Our pain patch is produced with the aid of plant extracts, self-heating patch design. This back pain patch is backed by science to deliver fast-acting, long-lasting, and deep penetrating pain relief for sore muscles, sore joints, and arthritis.

Pain Relief - These heat patches for pain relief can relieve various pains such as rheumatoid arthritis, bone hyperplasia, knee pain, tenosynovitis, strain and sprain, sciatica, and fibromyalgia.

Safe and Efficient – Our neck pain relief products are self-heating and it can penetrate deep into the area where the muscle is injured. Also, our heat patches contain pure natural herbal ingredients without any side effects

Easy to use - Simply clean the affected skin with warm water, remove the protective film, and stick the adhesive heat patch on the area where you're in pain. You'll definitely enjoy quick-acting pain relief and ultimate relaxation after a long and tiring day of work.

Long-lasting - For penetrating, mess-free & targeted relief, apply the heat patch to manage pain in specific areas. Saluvera pain patch offers pain relief for up to 8 hours.
Do you want knee pain relief but prefer to stay away from taking medications? These 10x13x1.5cm pain relief patches can work for you. The pain patches are great for relieving simple joint pains as well as arthritis. Pain-relieving patch helps injury caused by sports fall, knee problems, muscle pain, middle-aged knee problems, arthritis, bone hyperplasia, ligament injury, and other knee injuries. The active ingredients in these back pain relief products are dried ginger, camphor, menthol. It can be easily applied and worn under any cloth for pure relief. One packet of this pain terminator patch contains 12 patches that can be worn for 8 hours Once the patch is applied on the affected area, you'll feel warm at first before it starts giving temporary comfort from the pain that later creates a long-lasting effect. The heat from this pain killer increases ultra-circulation to the injured area, which means more oxygen and nutrients are sent to the damaged tissue. Furthermore, it helps keep the affected area warm, reduce inflammation, and improve blood circulation. It should not be used on damaged skin. The patch is designed with adhesive to alleviate sore muscle relief, minor aches, and external pains in the muscles and joints. There is no limit to what you can do when you cool your aches and pains.